Posted 9:50 AM by Scoobie Davis

Mexicans Who Come to The USA Illegally are Murderous Martians
This is the case, according to Fox News Democrat Tammy Bruce, who places the following photo (from Tim Burton's film Mars Attacks) on her website with the caption, "This is why we need Minutemen!"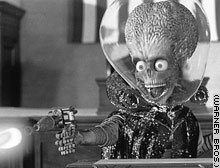 This isn't the first time Bruce placed insulting and bigoted photos on her website.
Email Bruce at heytammybruce@yahoo.com and ask her what the deal is and to please quit masquerading as a Democrat.